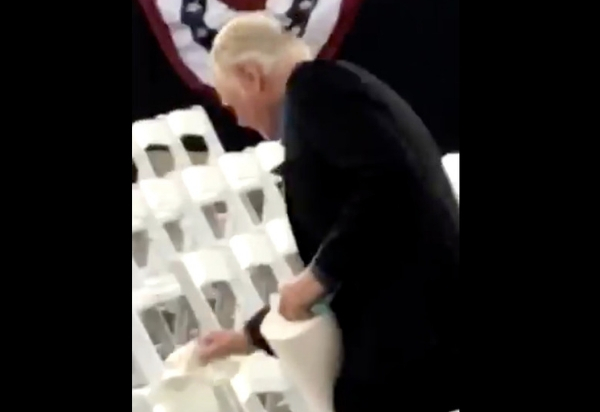 Footage of veteran actor Jon Voight is going viral — and for all the right reasons. The actor, who was in attendance at President Donald Trump's July 4 "Salute to America" commemoration, is seen wiping down wet chairs at the event that were reportedly intended for Gold Star families.
The video, which you can watch below, quickly went viral after it was posted to Twitter:
While Hollywood Elites protested President @realDonaldTrump's 'Salute to America' on July 4th...

Here's a video of John Voight cleaning the rain off seats for Gold Star families.

This is what it's all about! pic.twitter.com/q1iAyUnWSs

— Mike Hahn (@mikehahn_) July 9, 2019
Voight's seemingly selfless act has captured plenty of attention, as Gold Star family members are those who have lost a loved one in the line of duty.
So, his efforts are seen as honoring these men and women.
WATCH Jon Voight in 'Orphan Horse' on PureFlix.com
The U.S. Army explains the Gold Star reference a bit more:
The term Gold Star family is a modern reference that comes from the Service Flag. These flags/banners were first flown by families during World War I. The flag included a blue star for every immediate family member serving in the armed forces of the United States, during any period of war or hostilities in which the armed forces of the United States were engaged. If that loved one died, the blue star was replaced by a gold star. This allowed members of the community to know the price that the family had paid in the cause of freedom.
As for Voight, BizPacReview reported that he had no idea he was being filmed and was merely doing a good deed because he knew it was the right thing to do.
The outlet also noted what Voight said about Gold Star moms just a few days before the event.
READ ALSO: Helping Others: 13 Bible Scriptures On Giving
"There's no greater honor than to stand with these moms who have lost their loved ones who sacrificed for our country, for our freedoms, and who love and honor and respect our nation," he said.
For more of Voight and his work, consider streaming "Orphan Horse" on PureFlix.com today. You can also watch thousands of other shows, movies and original series with your free trial.