The film, "Woodlawn," is full of captivating sub-stories and themes, leaving something to inspire each and every one of its viewers. One of the main themes of this Pure Flix exclusive film is the power of great leadership. Set in 1970's Birmingham, "Woodlawn" follows the true story a high school football team that inspired a city to choose love over racism. While a number of the film's characters demonstrate great leadership, there are two that stand out; and, not surprisingly, those two characters also happen to be fathers. Throughout "Woodlawn" Tony Nathan's father and Coach Geralds wonderfully exemplify a father's unique call to lead by example and treat all with dignity. In light of Father's Day,

here are nine lessons of fatherly leadership found in the inspiring story of "Woodlawn."
1. Leaders make sacrifices to support others dreams. Tony's dad awoke before dawn to help Tony with his morning workout, showing just how much Tony's father believed in his son.
2. Quality time is essential. To spend more quality time with his son, Coach Geralds asked him to help "coach the team," even though he was just a kid.
3. It pays to listen to those below you. Coach Geralds' son told his dad to give Tony more playing time. Geralds found that his son was right, as Tony soon became the star of the Woodlawn football team.
4. Leaders are direct in advice and encouragement. Tony's father told his son, "Some kind of great power has been given to you son." This intentional encouragement helped Tony realize that he was playing football for something greater than himself.
5. Faith informs true leadership. Tony's father saw his role as much more than just raising a child. One touching scene in the beginning show's Tony's father leaving his son with an "I love you." This investment and unconditional love is a reflection of God's fatherly love for us.
6. Leaders stick up for what they believe. In a time of racism, Coach Geralds faced criticism from other dads for putting black players in the game. However, Geralds knew that what he was doing was right, and, by playing Tony, won many games.
7. Faith is taught by example. Both Tony's father and Coach Geralds take their kids to church on Sunday. When Coach Geralds asks to baptized, he does so in front of his son, thereby leading by example.
8. Leaders treat others with worth and dignity. "Woodlawn" shows the contrast between Tony's father and Tony's girlfriend's, father. Tony's father saw his son's worth and loved him unconditionally, while Tony's girlfriend's father abused her and called her "trash."
9. Great leaders believe in miracles. One of the first lines in the film is Coach Geralds explaining that he believes in miracles, though he did not always feel that way. Geralds' believing in the impossible is what made the Woodlawn football team so victorious.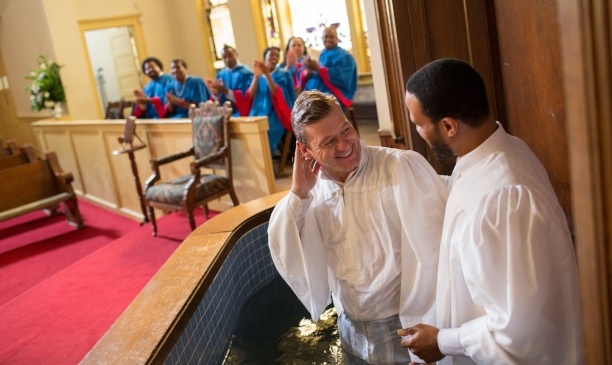 If you haven't yet seen "Woodlawn," why not watch this family movie together on Father's Day? "Woodlawn" is now available to stream exclusively at PureFlix.com. You can watch this inspiring film plus thousands of other Christian movies for free by signing up for our free-month trial. Sign-up today and make this incredible and charming story of football, fatherhood, and leadership part of your Father's Day celebration this year.
Read Also: Top 10 Christian Movies for Your Family