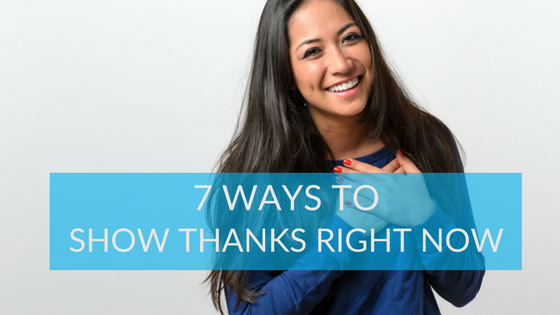 Thanksgiving is right around the corner, but it's never too early to start giving thanks. Studies show that practicing thankfulness can lower blood pressure, improve immune function and facilitate more efficient sleep. In fact, people who are grateful have better heart health, better well-being, a less depressed mood, less fatigue and they sleep better. Perhaps this is why 1 Thessalonians 5:18 tells us, "In everything give thanks: for this is the will of God in Christ Jesus concerning you." (KJV)
If you're ready to improve your well-being and spread some kindness, here are seven ways you can show thanks right now, no matter the season.
1. Give a Compliment
Compliment someone on something you notice about them. Does their smile light up a room? Do you just enjoy their company? Letting them know is one way to show thanks and brighten their day.
2. Write It Down
Start a list on a clipboard or make a "sticky note thankfulness wall" with little things you're thankful for. Put it somewhere visible in your office, home, or church, and ask others to jot down what they are thankful for too.
3. Stop Complaining
Complaining is the enemy of gratitude. Today, make it a priority to see the good in everything, and keep your complaints to yourself. Simply doing so naturally cultivates a spirit of gratitude, and lifts up those around you. Your attitude is your greatest asset.
4. Tweet #ThankfulThursday
If you're on Twitter, pay attention to hashtags that encourage users to share what they are thankful for. Share your gratitude, but also re-tweet others. Acknowledging their thankfulness will brighten their day and #SharetheLove. Click on the tweet below to edit it:

Today, I'm thankful for... #ThankfulThursday @PureFlix
5. Write a Thank You Note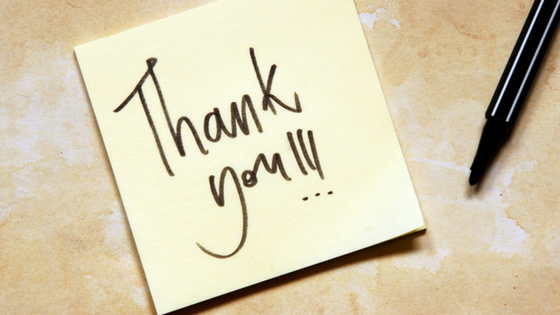 We live in a digital age that has made receiving physical mail something of a rarity. Take a moment to write a quick note to someone that you want to thank, even if it is for something small. Use a sticky note or a dry erase marker to leave a note on your spouse's mirror. Write a thank you on an index card and leave it on a coworker's desk. You'll surprise someone and make their day!
6. Smile
Did you know that smiling doesn't just express happiness, it can actually make you feel happy? Fake smiles work too, sending "happy hormones" like dopamine to your brain. Smiling has lots of other benefits too. Smiling reduces stress, creates positive thinking patterns in the brain, and may even strengthen your very cells.
7. SAY IT
The best way to show thanks right now is to simply make a point to say it out loud sincerely and genuinely. Thank your boss for all the hard work they do to support your team. Thank your spouse for something they did that made you smile today. Thank your kids for being polite. Thank your pastor for encouraging you.
And most of all, thank God for all the blessings He has put in your path every single day.
How are you showing thanks today? Comment below to let us know.
For more inspiration, check out the hundreds of family movies, documentaries, and shows on PureFlix.com. You can watch for free during your one month trial.
Read Also: 7 Ways to Cultivate a Spirit of Gratitude