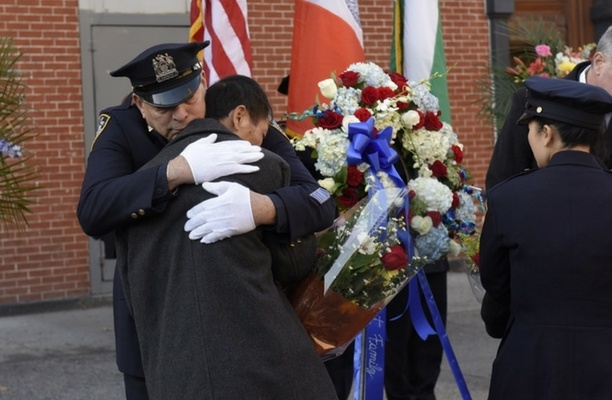 Police officers have been in the news a lot in recent years, and sadly not always for good reasons. When the news cycle is dominated by negative press, it can be hard to remember the heroes in our own backyards. Many police officers, like Officer Bryan Lawrence, are inspired by their faith to keep serving, and for that we are all grateful. You can encourage a brave law enforcement officer with these simple ideas:
Talk to Them
It sounds simple, but one of the best ways to say thank you is… to say it! When you see an officer out and about, or serving at an event, make sure to shake their hand and thank them for their courage. Being a law enforcement officer today is not always easy, but it is a crucial job that has to be done. Make sure to encourage your kids to say hi, too! A smile and a simple word of encouragement can go a long way.
Pay for a Meal
You've probably bumped into a group of officers on a lunch break during the day. Next time you see an officer or two grabbing coffee or lunch, why not foot the bill? This kind act of kindness and solidarity reminds the guys and gals in blue that you've got their back.
Bring Treats to the Station
It may be cliche, but bringing donuts by the police station is sure to ignite smiles all around. Have your kids help you pick out the best flavors and make a point to stop by and say thank you with some treats.
Visit a Memorial
There are memorials that have been erected across the United States to honor fallen heroes, including police. Besides the National Law Enforcement Officers Memorial in Washington, D.C., many states have local memorials as well. These are a great place to pay your respects to those who have given their lives to protect their communities, and teach your kids about the importance of local heroes. Find a memorial here.
Spread Positive Stories
Instead of anger, fill your social media feeds with positive stories like this one: "5 Police Officers Inspired to Serve by Faith." You'll bring a smile to your friends' faces, and spreading positive news is, in and of itself, a way of acknowledging your gratitude. One great inspirational story of a police officer that made a difference is in the movie, "Badge of Faith," streaming now on PureFlix.com. Watch it for free with your one-month trial.