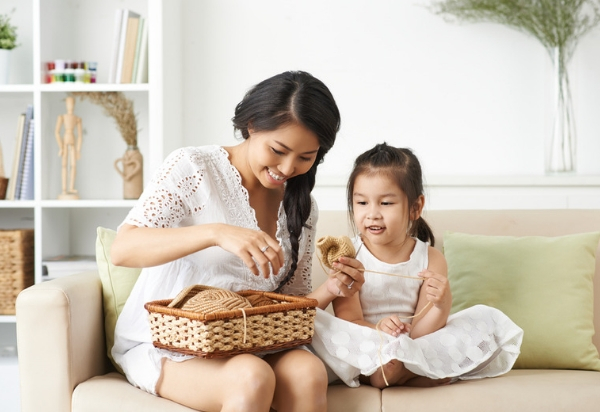 There's no shortage of creative options when it comes to crafting. From knitting and crocheting to quilting and sewing, there are many activities to choose from — artistic options to keep you busy and engaged.
Did you know, though, that crafting can also be a time of spiritual connection?
But before we get into ways you can worship while engaging in your favorite crafting hobby, let's deal with the obvious barrier some might have to diving deep into the crafting world: The "how to" piece of the puzzle can sometimes be intimidating.
Luckily, Annie's Creative Studio is an innovative "online video streaming service that specializes in learning, crafting and making."
LOOKING FOR ENTERTAINMENT? Watch Uplifting Movies and TV Shows Right Now on PureFlix.com
So, you can get scores of "how-to" guides streamed right to your computer, phone or smart device. Plus, if you sign up for PureFlix.com you'll get a 15-day free Annie's Creative Studio trial.
Now that we've handled all that, let's dive back into how faith can play a role in your crafting. Just consider the fact that knitting, quilting and other craft activities require a lot of concentration and, at moments, alone time. Why not maximize this time to also help build up your spiritual life?
Here are a few tips on how you can use your crafting time to better connect with God:
Put on Some Gospel Music While You Craft
Consider filling the silence with uplifting music that builds your faith. From worship songs to invigorating music, there's no shortage of Christian tunes to choose from.
We've assembled a list of Christian pop songs, though there are many other options available online for you to consider. You can also stream some of these popular Christian podcasts.
READ ALSO: The Top 15 Best Christian Podcasts of 2018
Listen to the Bible While You Knit or Crochet
Another great option is downloading YouVersion or another similar Bible app and simply listening to the scriptures while you work.
This is a refreshing and powerful way to take in God's truth. Listening while you work can help you keep focus and give God time while you're engaging in a peaceful hobby.
Consider diving into an audio Bible today.
Integrate Biblical Themes Into Your Work
Another great way to infuse your faith into your work is to create scripture-inspired blankets, crocheted items and other crafts. Why not include a Bible verse or God-inspired message?
You can surf over to Annie's Creative Studio for general guidance on how to create various crafts and consider surfing the Internet for more specific faith-centric ideas.
READ ALSO: The Best Daily Devotional Apps to Download Now
Engage in Prayer
Perhaps you are looking to preserve your silence while crafting. If that's the case, why not consider using your crafting time to engage in deep prayer to God?
Prayer is a powerful tool — and what better time to approach God than when you're focused and in-tune on a silent project?
Turn on an Inspiring Show or Movie
Last but not least: Consider turning on an inspiring TV show of movie. And if you're looking for a solid place to go for great content, look no further than PureFlix.com. You'll find thousands of faith and family-friendly TV shows, movies and original programs — all accessible with a free one-month trial.
Take it for a test drive today and find some wonderful content to stream while you craft.