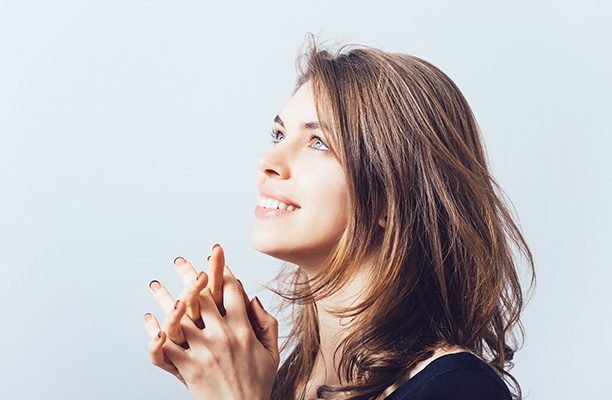 Sometimes you just don't feel healthy. You've been eating all the wrong foods and you can't remember the last time you went to the gym. You commit to turn things around and before long, you're starting to feel better. The same thing can happen spiritually. "Busy-ness" creeps in and keeps you from spending time in prayer and God's Word. Your attitude gets worse every day, and your relationships begin to suffer. If that's you, make a plan for change. Here are tips for getting back your spiritual health.
Prayer
Most people feel like they don't spend enough time in prayer, but sometimes you realize you've hardly been praying at all. It's like when you know you should call your grandmother, but it's been so long, your feelings of guilt make you keep putting it off.
90% of Christians say they read their Bible, while only 31% agree they pray regularly.
It's time to break the cycle. Remember God has been available whether you talked to Him or not. He won't be surprised when you admit to Him how you're feeling. Honestly confess you haven't been praying like you should, and ask for help to turn things around.
Establish a regular time for prayer. It might be during your commute to work or right after you wake up. Put a reminder on your phone that goes off every day until it becomes a habit.
Bible Study
Prayer is how we talk to God. The Bible is one way He talks back. Sign up for a "read the Bible in a year plan" and set aside a time to study Scripture. If finding time to read is a challenge, use online resources to listen to the Bible while you clean house, jog, or drive. Just like you try to exercise several days a week, make a plan that includes at least four days of Bible study "exercise" every week.
Read Also: 7 Inspirational Daily Devotionals
Worship With Other Believers
Hebrews 10:24-25 reminds us of the importance of fellowship with other believers: "And let us consider how we may spur one another on toward love and good deeds, not giving up meeting together, as some are in the habit of doing, but encourage one another…" (NIV).
In a time when online resources abound, it is easier than ever to watch a sermon right from your couch. But meeting physically with other believers is important. Roxanne Stone, from the Barna Group, recently spoke with the Pure Talk panel about the trend of declining church attendance, and how we can work to reverse the trend.
Service
Don't just attend church; find an opportunity to serve others. Just like the first few days of healthy eating and exercise may not feel good, service might at first seem an unproductive use of your time. Galatians 5:13b says, "...serve one another humbly in love" (NIV), and when you serve, you model Christ's attitude toward others. As your heart begins to change, you'll be the one who benefits most.
Faith
Realize that, ultimately, your favor with God doesn't lie in what you do. You don't earn extra points for how many minutes you spend in prayer, or the number of Bible verses you read. You have God's unconditional love because of what Christ did on the cross.
If you have difficulty getting into your new routine, keep coming back to the cross. Your sins are paid for, and your future is secure. Rest in your knowledge of Christ's finished work.
Looking for more ways to incorporate your faith into your daily routine? Use positive Christian entertainment to improve spiritual health. The devotional "Christian Movies that Teach the Fruit of the Spirit" comes with a link to watch each movie and allow it to transform your life. Download your free copy today.