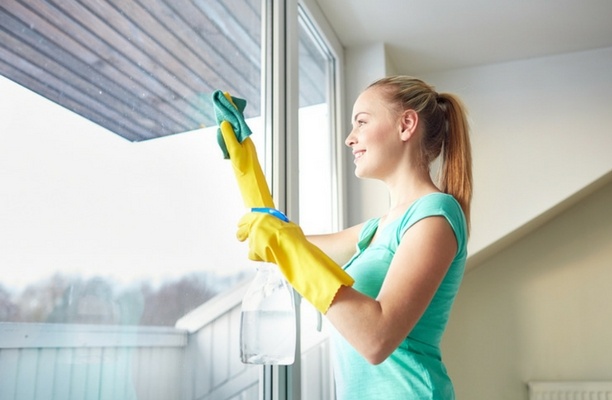 In spring, the sun shines longer and brighter, which means it's easier to see the dirt that's settled in the house over the winter months This year, while your spring cleaning the house, why not check-in with your soul, too? Easter is just around the corner, and there's no better time than now to prepare your heart for the Easter season. Here are five steps that will help your soul feel light and refreshed. You can use this exercise as a devotion or meditate on the steps as you clean your own house.
Open your heart and let God in. Just as you open the windows wide to let the fresh air of spring sweep through your house, open your heart, and ask the Holy Spirit to move in your heart. Don't forget to call upon the Holy Spirit, for "it is the Spirit who gives life; the flesh is no help at all." (John 6:63 ESV)
De-clutter. With the Holy Spirit sweeping though your heart, think about what in your life has been keeping you from spending time with God each day or what is taking away your peace. Get rid of it, and create space for more of what is good and beautiful in your life. Remember that "if we confess our sins, he is faithful and just to forgive us our sins and to cleanse us from all unrighteousness." (1 John 1:9 ESV)
Dust. Just as dust slowly and quietly settles on the furniture, bad habits slowly build into our own lives. What bad habit have you formed lately? Gossip? Laziness? Negativity? Make a commitment to rid yourself of that bad habit, and strive "to put off your old self, which belongs to your former manner of life and is corrupt through deceitful desires, and to be renewed in the spirit of your minds, and to put on the new self, created after the likeness of God in true righteousness and holiness." (Ephesians 4:22-24 ESV)
Sweep. Like dust upon furniture, we slowly drag dirt from the outside world onto the floor. What bitterness have you dragged into your heart? Have you been harboring resentment toward anyone? Forgive them. Until you do, you can't truly spring clean your soul, for Christ tells us, "if you are offering your gift at the altar and there remember that your brother has something against you, leave your gift there in front of the altar. First go and be reconciled to your brother; then come and offer your gift" (Matthew 5:23-24).
Make a plan to keep your soul clean. Now that you've thoroughly examined the ways sin can creep into your soul, consider creating a game plan that will keep your soul clean throughout the rest of the year. Commit to joining a Bible Study, attending Wednesday night services, or daily praying a morning devotion. For "you have taken off the old self with its practices, and have put on the new self, which is being renewed in knowledge in the image of its Creator. (Colossians 3:10)
Do you have tips to recharge a tired or lukewarm soul? Leave them in the comments and share your ideas. Looking for more inspiration? Watch one of the thousands of Christian movies, TV series, documentaries, and originals on PureFlix.com. Each movie is free of sex, language, and violence, and packed with meaning and encouragement to help you on your Christian walk. You can watch for free when you sign-up for a one-month trial at PureFlix.com.