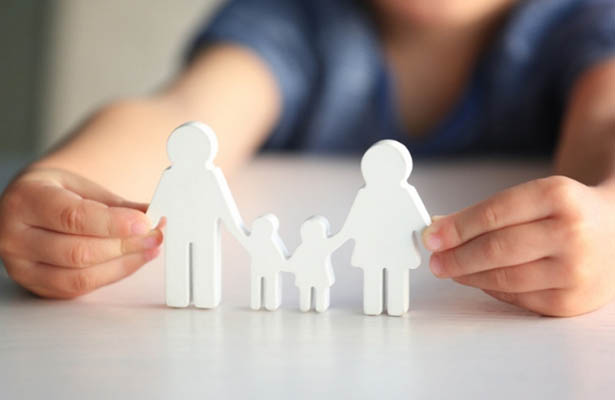 So many adoption stories offer powerful testimonies about faith, love, compassion and overcoming the odds. The stories about kids and their adoptive parents hold the power to move our hearts and souls.
Through our partnership with AdoptTogether, the world's largest crowdfunding platform in the world for adoption, Pure Flix has been able to help — through generous PureFlix.com members — raise funds for families hoping to grow their families through the blessing of adoption.
These families' stories have been absolutely incredible. Adoptive parents looking to bring a child into their home have turned to AdoptTogether to crowdfund their expenses, and Pure Flix has been able to come alongside some of these families and help bridge financial gaps.
READ ALSO: 'Grey's Anatomy' Star Sarah Drew Surprises These Adoptive Parents
Let's explore some of the most powerful adoption stories that you've helped us be a part of:
Adoption Stories: Lindsay and Maj. Colin Culkin
"Religion that God our Father accepts as pure and faultless is this: to look after orphans and widows in their distress and to keep oneself from being polluted by the world." - James 1:27 (NIV)
One of the most powerful adoption profiles surrounds adoptive parents Lindsay and Maj. Colin Culkin. The couple, who live in Carlsbad, California, are the parents of twin girls after embarking on their adoption journey.
"We really had not done the financial planning for adopting two children and then we saw these two girls and our hearts just went out to them," Maj. Culkin told "Pure Flix." "We knew that we had to figure out how to adopt both of them."
READ ALSO: How a Stirring Vision From God Led This Family to Adopt Four Kids
And because of generous PureFlix.com subscribers, we were able to help the family meet their remaining adoption expenses. Here's there's adoption story:
Adoption Profiles: Jeffrey and Kristine Moore
"Learn to do right; seek justice. Defend the oppressed. Take up the cause of the fatherless; plead the case of the widow." - Isaiah 1:17 (NIV)
Jeffrey and Kristine Moore's long and amazing adoption story started with a calling — a vision from God that led the husband and wife on a decade-long journey that culminated in 2017 in Peru. Rather than adopting just one child, the adoptive parents chose four adorable siblings: Elizabeth, Jhonatan, Mariaelena, and Talia — and their lives will never be the same.
"The story of adoption began because God called us to it," Jeffrey Moore told Pure Flix.
The details of the adoption are pretty incredible. Watch to see God's hand in the mix all the way through, and see the joy on the kids and adoptive parents' faces:
READ ALSO: You'll Love How this Family Raised Money for Its Adoption
Adoptive Parents' Story: Adam and Alyssa Hoekstra
"And whoever welcomes one such child in my name welcomes me." - Matthew 18:5 (NIV)
The Hoekstras' journey is another one of the powerful adoption stories you won't want to miss. After having two biological children, the couple — feeling called by God — turned to AdoptTogether.org to crowdfund for their adoption.
But they had long been looking to adopt. After struggling to initially conceive, they considered adoption twice, but ended up pregnant both times. Still, they told Pure Flix in one of our AdoptTogether adoption profiles that they felt God calling them to adopt, so they answered that call. Watch the adoptive parents tell their story:
Adoption Stories: Kim and Steven Wilson
"The King will reply, 'Truly I tell you, whatever you did for one of the least of these brothers and sisters of mine, you did for me.'" - Matthew 25:40 (NIV)
Adoptive parents Kim and Steven Wilson were initially told that Kim wouldn't conceive, so they set their sights on adoption. But then something incredible happened: The couple miraculously conceived their son, Corban.
Like many other families in similar situations who have spoken out in adoption profiles, the couple decided that they still wanted to pursue adoption.
READ ALSO: Tear-Jerker: Shocked Couple Receives Life-Changing Gift
Watch the parents share their story — and see what happened when Pure Flix offered them a powerful surprise:
Adoption Profiles: Joel and Samantha Brandt
"A father to the fatherless, a defender of widows, is God in his holy dwelling. God sets the lonely in families, he leads out the prisoners with singing; but the rebellious live in a sun-scorched land." - Psalm 68:5-6 (NIV)
Joel and Samantha Brandt's journey is another of the adoption stories that offer true hope to the faithful and, in particular, prospective adoptive parents. Joel initially didn't want to adopt, but the couple told Pure Flix about the amazing ways his heart changed.
"We probably would have adopted a lot sooner if it wasn't for my hesitation. I think a lot of that was just my own insecurities and fears," he said. "I can say now that it's the best thing that's ever happened to me."
Watch the adoptive parents discuss one of the most powerful adoption stories:
That concludes our powerful list of adoption stories. Visit our giving back page to see the amazing work PureFlix.com members allow us to do in the community.