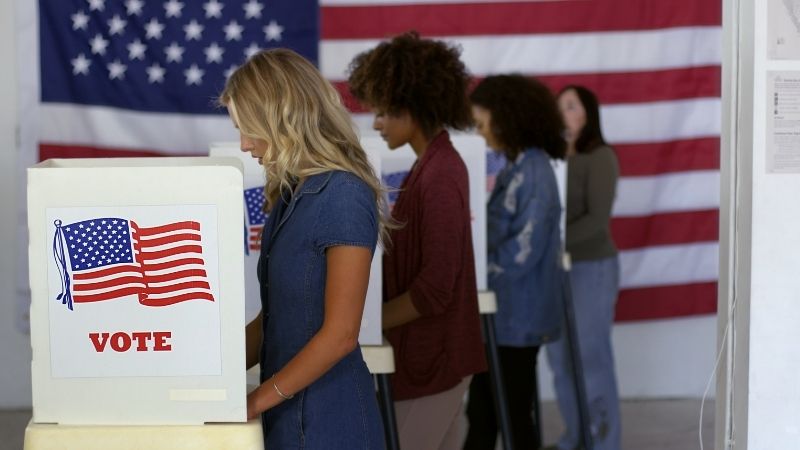 The 2020 presidential election is upon us, and a plethora of emotions have come with it. But no matter where you stand this election season, there are two essential realities you must remember: we are called to love God and love others.
FREE DEVOTIONAL: GET THE FRUIT OF THE SPIRIT DEVOTIONAL — FREE ON PURE FLIX
If you're looking for specific Bible verses about voting, consider that the scriptures you're about to read extend well beyond the typical questions of how to vote biblically or "Who should I vote for?"
These proclamations — which are timeless — call us all to something bigger and more essential: love. So, let's explore just four areas of scripture that should be top of mind as we dive into the election on Tuesday:
James 3:5-6 (NIV): The Tongue
These scriptures aren't specifically Bible verses about voting, but they are essential for any election season — and really any season of life, if we're being honest. How we speak matters. What we say has impact. And if we're to abide by scripture, we know that what comes out of our mouths can be deeply damaging. Just consider James 4:5-6 (NIV):
"Likewise, the tongue is a small part of the body, but it makes great boasts. Consider what a great forest is set on fire by a small spark. The tongue also is a fire, a world of evil among the parts of the body. It corrupts the whole body, sets the whole course of one's life on fire, and is itself set on fire by hell."
So, as we navigate the election — no matter what happens, let's watch how we speak to others. It deeply matters. Need help in this area? We have a powerful devotional that can help.
READ ALSO: LIFE, DEATH & 'POWER OF THE TONGUE': WHY WHAT YOU SAY TRULY MATTERS
Galatians 5:22-23 (NIV): Fruit of the Spirit
Galatians 5:22-23 tells us something essential about our faith — that when we have Christ in our hearts, there is positive fruit that can be seen and observed. These scriptures read:
"But the fruit of the Spirit is love, joy, peace, forbearance, kindness, goodness, faithfulness, gentleness and self-control. Against such things there is no law."
We must consider this fruit and our own behavior as we navigate the remaining hours of the presidential campaign and as we head into the election and eventually receive the sure-to-be-contentious results. No matter how we are feeling, we must ensure that we are living in a way that yields the fruit of the spirit.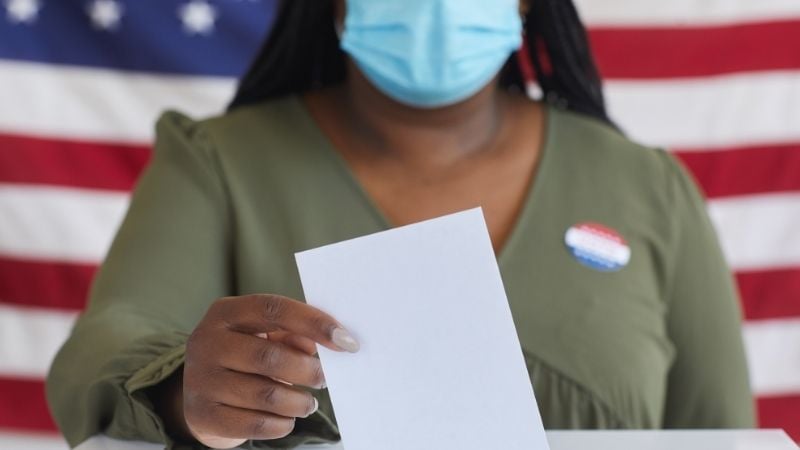 Matthew 5:43-48 (NIV): Love Your Enemies
There's so much us vs. them going on right now that it becomes easy to assume that anyone who disagrees with us is an "enemy." This is oft-times extra-rampant during election years, but this cycle it seems particularly problematic. Let's remember what Jesus tells us in Matthew 5:43-48 (NIV):
"You have heard that it was said, 'Love your neighbor[a] and hate your enemy.' But I tell you, love your enemies and pray for those who persecute you, that you may be children of your Father in heaven. He causes his sun to rise on the evil and the good, and sends rain on the righteous and the unrighteous. If you love those who love you, what reward will you get? Are not even the tax collectors doing that? And if you greet only your own people, what are you doing more than others? Do not even pagans do that? Be perfect, therefore, as your heavenly Father is perfect."
Remember to love everyone — especially those who don't love us, as this is paramount. So, let's lead this week in love, no matter what happens.
READ ALSO: ARE YOU LIVING A TOTAL 'NIGHTMARE'? YOU CAN OVERCOME FEAR WITH CHRIST
1 John 4:18 (NIV): Combatting Fear
Love triumphs over fear. We're told this in scripture and specifically in 1 John 4:18, which reads:
"There is no fear in love. But perfect love drives out fear, because fear has to do with punishment. The one who fears is not made perfect in love."
Let's also remember this week that many people will be fearful. Even if you disagree with the reasons for those fears, reach out in love, respond in love and be caring and compassionate along the way.
Though these scriptures aren't directly tied to the election, they are powerful verses about voting and politics that everyone can heed. Let's remember Jesus' call: love God and love others.
Want more inspiration or need help in these areas? Download our "Christian Movies That Teach the Fruit of the Spirit" devotional to help build up love and grace in your own heart and life.