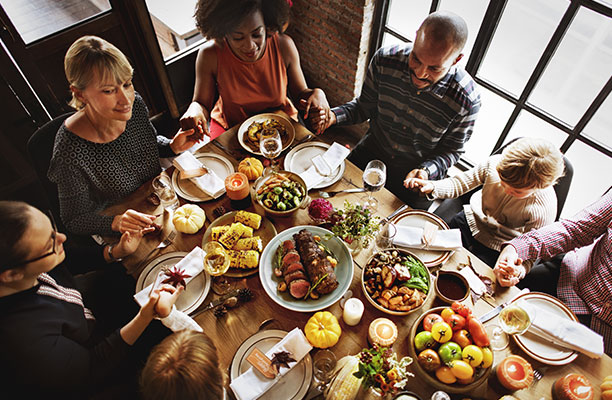 By the time you gather at the table this Thanksgiving, you have a wide range of things to be thankful for. You're glad you didn't burn the turkey, thankful you can get off your aching feet, and grateful it's finally time to eat. You probably feel an even deeper gratitude when you recognize you are surrounded by the people you love most.
If you don't already have a tradition that involves offering thanks in prayer, this year is a great time to start. It's always good to make time for prayer, and Thanksgiving is a time for putting God first just like the colonists did in 1623, when they gave thanks to God for rain after a two-month drought. Reflect on the meaning of thankfulness this holiday season and choose one of the following as your Thanksgiving prayer for family.
Thank God for His Grace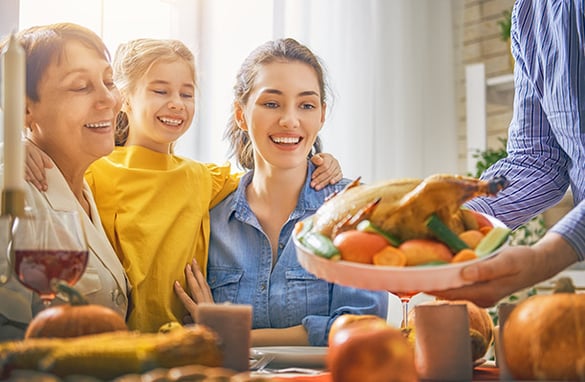 Our families are full of imperfect people, and nothing highlights that fact like the holidays. Problems range from broken relationships that fall apart, to quirky relatives who make you shake your head. Offer a prayer of Thanksgiving for God's grace that goes something like this:
"Father, today we give thanks for all the blessings You have given us. We're safe from harm, we have food to eat and despite the challenges in our lives, we know that we are blessed. One of the things we're most grateful for is Christ's finished work on the cross.

We recognize that while we were still sinners, Christ loved us and gave His life for us. He went through death on the cross so we could have a relationship with You in life, then go on to be with You forever. We fall so short, but You love us anyway. We have deep flaws, but when You look at us you see Christ's righteousness. Bring us closer together as we express our gratitude for all You have done. Thank You in Jesus' name, amen."
Thank God for the Season
The holiday season brings a host of blessings. Offer a simple prayer that lists all the ones that come to mind. Say thanks with a prayer like this one:
"Father, thank You for bringing us all together safely. We don't get to see each other often enough, and sometimes it feels like a miracle just having everyone in one place. Some people don't have food at all today, and we have it in abundance. Thank You for always providing for our needs. And if the meal wasn't enough, we have all of our favorite desserts. Thank You for how You enrich our lives and for the ones who prepared this feast. For the ones who couldn't make it, comfort them today and please make it possible to see them again soon. Thank You, amen."
Thank God for the Year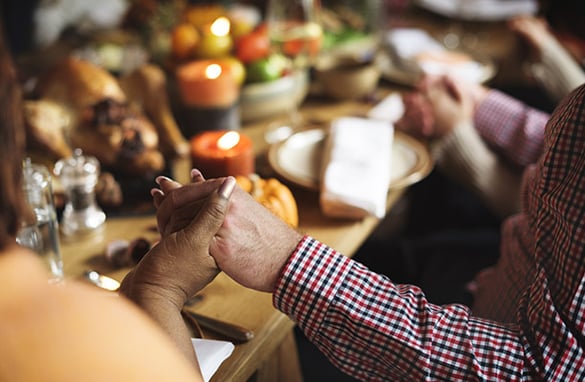 Customize your Thanksgiving by reflecting on what God has done in the previous year. Instead of trying to stick to a script, think back to everything that's happened since last Thanksgiving, and offer thanks for the ways God has been present. Bring your family closer by inviting everyone to chime in and offer thanks in their own way.
The holidays are a great time to share Christian values with family members. PureFlix.com offers the devotional guide, "Christian Movies that Teach the Fruit of the Spirit." Read nine devotions that teach virtues like love, peace, and kindness. Then, supplement your learning by watching the suggested movies that demonstrate each trait.