When was the last time you laughed so hard you cried? Herman Melville said, "A good laugh is a mighty good thing, a rather too scarce a good thing." There isn't a single person who would say they don't want to laugh more. In a culture where the price of a laugh is often inappropriate language or content, Christian comedians are on a mission to show that comedy can be safe, fun and enjoyable for the whole family.
And with Christian stand-up comedy on the rise, there are more and more religious comedians to choose from. So, with your kids, on your own, or with all of your friends, check out the clean and Christian comedians on PureFlix.com for your next laugh:
"Date Night Comedy"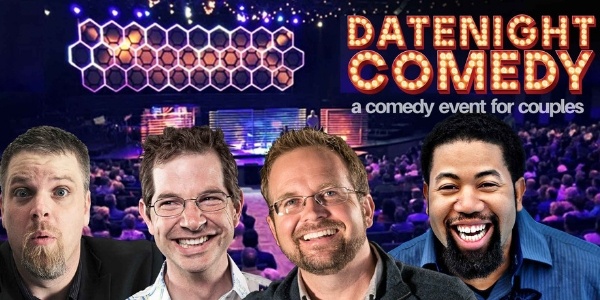 "Date Night Comedy" is a Christian comedy event for all couples. Your date night will never be the same. Watch as these hilarious comedians share their insights into marriage, parenting, and faith. They will have you laughing all night long! Are you ready to get your date on?
Read Also: Clean Comedy is On the Rise, Here's Why
Watch it here, and check out some of the "Date Night Comedy" performers below:
Ted Cunningham
Join pastor and comedian Ted Cunningham as he explores how to put the FUN back into your marriage. Pastor Ted will give you a workout of laughter with plenty of roaring moments. This is a "Date Night" you won't soon forget! Watch it here.
Jason Earls
Comedian Jason Earls will bring you to tears laughing at his stories of being a husband while raising six kids. Jason's blend of physical comedy and storytelling will keep you laughing all night long. Watch him right here.
John Branyan
Comedian John Branyan uses his crazy antics to dive into real life stories. He has jokes about church people and couples alike. John will send you off with one of the most creative tellings of the "Three Little Pigs" you've ever seen or heard. Brace yourself — and watch it here.
Paul Harris
Growing up, Paul Harris didn't have fancy dating websites; in his time, people had to court the old fashion way. His stories and style will have you repeating his jokes for days and weeks to come. This is not your normal "Date Night." Watch Paul's take on life and comedy.
Pure Flix Comedy All-Stars
Ready for even more Christian stand-up comedy? Celebrity host and comedy legend Sinbad welcomes comedians Chase Anthony and Dwight Slade for an evening of stand-up comedy appropriate for the entire family.
Watch Pure Flix Comedy All-Stars, an original production captured before a live audience.
Sinbad
Comedy icon Sinbad grew up in a religious household — and his dad was a minister. It seems he's carried these values and experiences with him into his adult life, as Sinbad hosts stand-up specials that you can enjoy with your whole family.
Other Clean or Christian Comedians
If you're looking for another Christian comedian to follow, search no further. The below list offers a good overview of Christian stand-up comedy, providing insight into religious comedians who will leave you and your family endlessly laughing. Here are some more funny Christian comedians to watch right now:
Leland Klassen
Leland Klassen is known as "Canada's premier clean comedian" — a man who doesn't sacrifice his values for the sake of making people laugh. According to his bio, Klassen "decided right from the beginning that he would remain clean despite what everyone else was doing."
Among his many projects is the show "Leland Klassen's Comedy Tournament." It includes one veteran comedian, 27 rookies, 20 cities, six finalists. Add them all up and you have the world's first Christian comedy reality show with one winner. Watch it here.
John Crist
Christian comedian John Crist burst on the scene in the last few years, solidifying himself as one of the funniest religious comedians around. His well-produced comedy videos regularly go viral and spark laughter among Bible believers.
Crist has joked about how his unique background has helped fuel his comedy.
"Shoot, I grew up in Georgia. My dad is a pastor, and I was the third of eight homeschooled children," he said. "Coming from a background like that, how do you NOT write jokes?!"
You can watch Crist's unique brand of comedy here.
Chonda Pierce
Beloved Christian comedian and laughter legend Chonda Pierce has "channeled her life experiences into positivity" and has brought joy to audiences across America. Pierce, a female Christian comedian who has had a wildly successful career in the industry, has produced several stand up routines that you can stream right now on PureFlix.com.
Whether she's tackling fear in "Be Afraid," sharing her quirky view of life's awkward moments in "Four-Eyed Blonde," or sharing some of her funniest stories in "Have I Got a Story For You," Chonda will have you laughing until you cry. Watch the full slate of Pierce's comedy here.
Kenn Kington
Kenn Kington is a widely sought-after Christian comedian who hosts "Ultimate Date Night" events to help couples learn and grow. His motivational and inspiring style brings a unique twist to Christian stand-up comedy. You can watch Kington right now in "Kenn Kington: I Don't Understand" on PureFlix.com.
Jonnie W
Once in a generation someone comes along with the power and eloquence to inspire us all. Until that person arrives, Jonnie W. is here to entertain us! According to his bio, "Jonnie blends musical chops, mad vocals, and off-beat stand-up for a hilariously unique comedy experience."
You can watch him perform right now on "Jonnie W.: Live at the Franklin Theatre" and in "Date Night Comedy" on PureFlix.com.
Clayburn Cox
Clayburn Cox is a Southern deadpan comedian with an offbeat delivery and stage presence. He promises clean family fun and has a passion for the gospel. You can see him perform right now in "Long Awkward Pauses: Clayburn Cox" on PureFlix.com. The title of this show says it all.
Will McDaniel
Christian comedian Will McDaniel has been offering audiences family-friendly and faith-inspired comedy for more than a decade. He is one of the many funny religious comedians worth checking out. While much of the comedy out there isn't safe for the whole family, McDaniel's mission is "to build bridges and to restore joy" — an effort to transform lives through comedy.
He's big on laughs, big on comedy and big on faith. His take on everything — from life with sleep apnea to being a Christian — will keep you in stitches. Watch "Will McDaniel: Massive Comedy Special" right now on PureFlix.com.
Jeff Allen
Jeff Allen is among the most popular funny religious comedians. He's been performing Christian stand-up comedy for more than four decades and is a highly sought after talent. This clean comedian "drives home the humor in everyday family life and the joy derived from a healthy marriage," according to his website.
You can watch Jeff Allen right now in "Pure Flix Comedy All Stars: Jeff Allen."
Other Funny Christian Comedians and Christian Stand-Up Comedy to Watch
"Apostles of Comedy"
"Apostles of Comedy" is an interview mix of four comedians and an exploration into their lives as men of faith and how they express their faith through their comedy. The film is a weave of live performances and documentary footage following the comedians on stage, in their homes, churches, and in a "no-holds-barred" conversation. Watch "Apostles of Comedy" now.
"Run On"
When three Christian comedians come together, there's no telling how hard you'll laugh or how much you'll learn (parental warning: mature subjects). You can watch "Run On" right now on PureFlix.com.
For more great comedy content and other shows and films that will help you walk closer to Jesus and grow your faith, be sure to download The Christian Comedy Movie Guide.