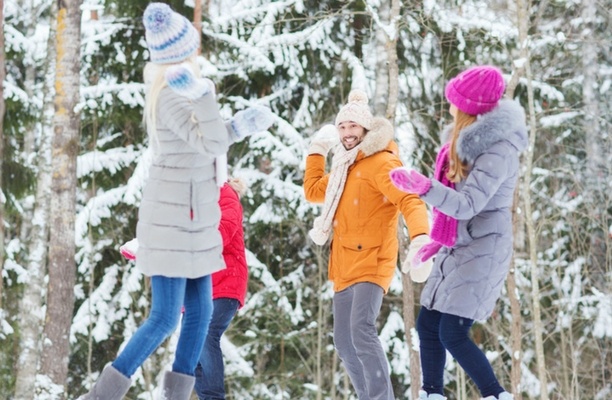 As I write this, the snow might be piled up higher than your front door, or it might be time to mow your grass. No matter which scenario fits your current situation, one thing is certain, we all need snow days!
Let's face it, those of us who homeschool are typically with our children 24 hours a day, 7 days a week, all year long. In the winter, that number can sometimes feel like it increases tenfold. Regardless, here are some reasons why you should take snow days.
Kids love snow. They enjoy being all bundled up in their winter clothes and marching out like overstuffed penguins for a 10-minute romp in the snow, which ultimately leads to adorable red-faced overstuffed penguins waddling their way back into the house, flinging wet snow and ice-covered clothes and shoes all over and demanding hot chocolate . . . which we gladly provide.
This is the picture of craziness a snow day provides. It is also a picture of perfect memory-making moments that absolutely cannot be found inside a textbook or on a computer screen while doing schoolwork. These are the joys homeschoolers can find in taking snow days. Embrace these days; they are often gone before we even realize.
Another reason homeschoolers should take snow days is the fact that sometimes we just need a break. Let the schedule go. No one will perish because you skipped math or science. Let the freedom of homeschooling allow you to take time to enjoy your children, with little to no stress. Bundle up and head out into the snow with your people. These are the moments that will make the top 10 list of most precious memories—not the book work, but the special times that parents set aside to just be.
Once you're done with the snow, continue to play. Grab the board games, a deck of cards, or some puzzles. Playtime is a valuable addition to any school day. So, build your relationships instead of building multiplication skills. In the future, your children will rely far more on the relationship they've built with you than any math skills they've learned.
Books, blankets, and snuggles are an exceptional way to enjoy your snow day. The soothing sound of your voice as you read a new book or a beloved classic will do more for your children than further their learning, it will grow their heart for you.
The importance of taking a snow day, especially as homeschoolers, is far more beneficial than you may have realized. Wait, you don't get snow where you live? That's okay, call it what you will. Just take the time to enjoy your blessings. Everyone deserves a break now and then!
PureFlix.com has partnered with The Old Schoolhouse to provide families like yours free homeschooling resources with just a few clicks.