Ever wanted to make a movie? That's exactly what two homeschooling families did back in 2008, and now their film, "Pendragon," is one of the most popular Christian historical adventure films of all time.
Despite the movie's humble beginnings, it won fourteen awards across the country, including Best Family Film at the Bare Bones Film Festival.
The film was directed by homeschooler Chad Burns. "Our hope is viewers will see this movie, and they'll be encouraged and inspired to follow the Lord's call in their life," Burns said.
"I think the Lord calls each one of us to do something."
"Pendragon" takes place in 411 AD after Rome surrenders the British Isles. With the Romans out of the picture, there is no one to protect the people against the invasion of the barbarian Saxons.
The main character, Artos, believes in God and knows there is a purpose for his life, but many tragic events cause him to question his faith. When the Saxons attack, his village is burned, his parents die, and he forced into slavery. As the movie continues, Artos must choose between following God's plan for him which will lead to death or abandoning God's plan and saving his own life.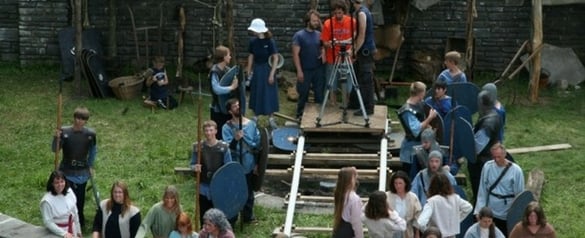 The Burns Family Studios created this film with just two sets of parents and nine children between them. "From the beginning, both of our families had a desire to see our children love and serve the Lord, and the 'Pendragon' gave us an opportunity to do that," said Adrianne Burns, who coordinated the extra actors on set. Another family member, Tracey Burns, said, "I never dreamed we'd be filming a movie of this scale in our own backyard."
The director commented, "It has been so encouraging to talk to people who have been inspired by 'Pendragon.' We are so thankful to everyone who had a part in the production of 'Pendragon,' and to the Lord for allowing us to be a part of His plan."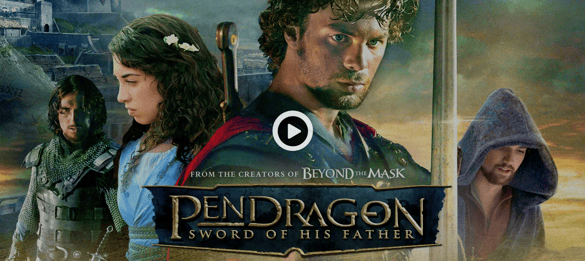 Sword fights, damsels in distress, and dashing heroes, "Pendragon" is everything you want in a family fantasy film, with none of the garbage. Instead of gory violence or overtly sexual costumes, in this family movie you'll find Christian themes, even Bible verses, making "Pendragon" a breath of fresh air for Christian families.
Find out what happens next by watching the movie "Pendragon" on PureFlix.com. If you're not a subscriber, you can watch for free during your one-month trial.