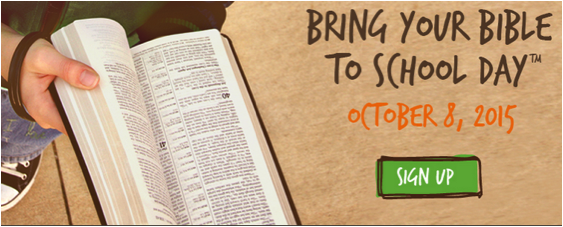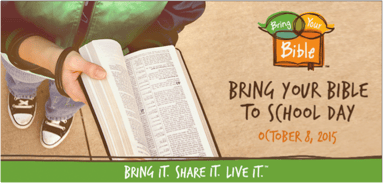 With so much news about how prayer in schools and religious freedom is under attack, it's refreshing to hear about an event that promotes our constitutionally protected right to bring Bibles to school.
Sponsored by the Focus on the Family organization of Colorado Springs, Colo., today has been designated as "Bring Your Bible to School Day" across the country. Now in its second year, the event is designed to "empower students to take their Bibles to school as a visual way to celebrate religious freedom and share God's hope with friends."
According to the organization, about 8,000 students participated in last year's event. This year, the number of participants is expected to grow "exponentially." Check out this inspiring video featuring powerful testimonies from courageous young disciples of Jesus.
The leading Christian band "Newsboys" is also supporting the event. "We're thrilled to be able to help spread the news about this event to students and their families." Newsboys lead singer Michael Tait said in a press release. "Students' freedom to express their faith at school is an issue that's really close to our hearts." Watch this promo video to hear the heartbeat and passion for standing side-by-side with their younger brothers and sisters in Christ:
The award-winning band's new music video "Guilty" featured below deals directly with the freedom to express one's faith at schools. What's more, the song will be featured on "God's Not Dead 2" from Pure Flix when it debuts in April 2016. There's no debate about "Guilty" being a powerful song with a strong opening lyric:
"When did it become breaking a rule

To say your name out loud in school

When your names the only one that sets us free

When did it become incorrect

To speak the truth about life and death

When your life gave us all eternity"
Watch This Powerful Soundtrack "Guilty" From God's Not Dead II Being Released In The Spring of 2016:
At last year's inaugural event, according to Focus On The Family, one student decided to bring her Bible to school after reading the group's materials on students' rights. After getting some friction from one of her teachers, the tables were turned: The student became the teacher. She explained her rights to the teacher and was later allowed to display her Bible.
There have been numerous reports of students coming under fire for expressing their religious beliefs. Even at Notre Dame University, a campaign has begun to help end religious persecution called Speak Up! The campaign encourages students to submit communications materials (videos, songs, essays, etc.) that raise awareness of religious persecution.
"We hear from many students who want to be open about their faith and exercise their religious freedoms at school, but don't know they are allowed to," Focus on the Family Education Analyst Candi Cushman, said in the release. "When we let them

know they don't have to hide their beliefs, they feel empowered to do what's always been on their hearts: to bring their Bibles to school and use their free time to publicly live out their faith. That's why this event strikes a chord."
Free, downloadable guides for students and pastors/parents are also available online at www.focusonthefamily.com/bringyourbible and additional information can also be found on www.bringyourbible.org. "Bring Your Bible to School Day" is also on Facebook and Twitter. The official hashtag is #BringYourBible.
The leader of the National Hispanic Christian Leadership Conference, which represents millions of Evangelical U.S. Hispanics, is also supporting Bring Your Bible to School Day. " 'Bring Your Bible to School Day' is a wonderful celebration of faith and freedom, and a tremendous opportunity for young people to share the transforming power of Christ's love," Rev. Dr. Samuel Rodriguez said.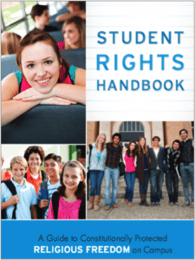 Our friends at America's leading defenders of religious freedom, ADF (Alliance Defending freedom) provides educational resources to help individuals and families understand their rights. Click here to download a free Student Rights Handbook so you can stand firm. Should a student's right be violated, the Christian legal group Alliance Defending Freedom will offer free legal representation. Click here for more resources from ADF.
We'd love to hear your thoughts on this topic. We encourage you to leave your comments below.