Parenting is most certainly rewarding, but it's not always easy. The chaos and busyness of life can sometimes leave people without enough time to finish everything that needs to get done. From housework to jobs and your kids' schoolwork, some things can often get neglected or, at best, halfway completed.
While reading with our children is absolutely essential, some parents struggle to find the time, but new research indicates that a surprising tool that's right in the palm of your hand can actually help keep you and your kids on track.
WATCH: Stream the Best Educational Movies and TV Shows Right Now
So, whether you're a homeschool parent (we have some wonderful resources for you here) or you have a child in a public or private school setting (don't worry, we have you covered as well), you might find both this story and the tips presented within quite helpful.
According to USA Today, some recent research has suggested that parents who sign up for text alerts to remind them to read stories to their kids and take other educational actions might actually end up following through on these action points.
The outlet has more on the impact of these programs:
Amid today's advanced technologies, the humble text message is offering new promise for closing gaps in student achievement – by targeting the behavior of their parents. Informed by science, several new texting programs have helped parents and caregivers develop habits at home that help kids succeed.
Well-timed, well-crafted text messages to parents have led to an increase in reading to toddlers and a rise in Head Start enrollment and attendance, studies show. At the high school level, they've led to teens skipping fewer classes, completing more homework and earning higher grades.
That's pretty impressive. While some of these programs are for lower-income families, others are available to everyone. Vroom is just one of the apps you can use. It promises to "boost your child's learning with fast and fun tips available by text."
WANT INSPIRATION? Watch Uplifting Movies and TV Shows Right Now on PureFlix.com
"With Vroom by Text you can turn any moment into a brain building moment. No need for yet another app or dipping into your data plan!" the description reads. "You can even register multiple children to a single phone number."
A simple online search can help you find other similar apps and resources as well.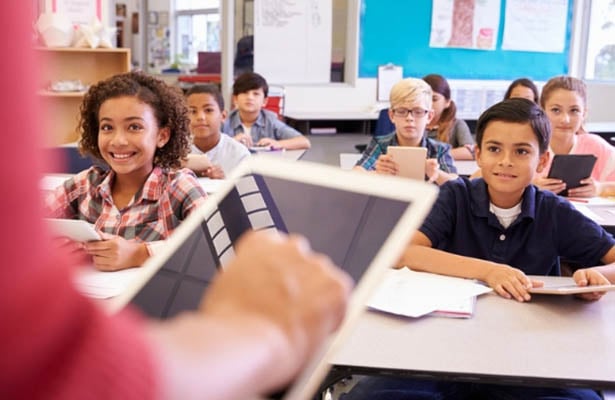 In the end, Peter Bergman, a professor of education at the Teachers College at Columbia University in New York City, said texting is "really about reaching parents at the right time with the right information." And he should know, as he has seen the research results firsthand.
During a 2010 study among Los Angeles high school students who were missing homework, he found that homework completion increased 25 percent among kids whose parents he texted versus those kids whose parents were not contacted in this manner.
"In terms of bang for the buck, it's a clear win," Bergman told USA Today of texting technologies.
Read more about this fascinating story over at USA Today.
READ ALSO: Mom Blogs: 8 Homeschool Blogs That Will Inspire
Are you a homeschool parent? PureFlix.com has an email series that offers you advice for planning, parenting, finding curriculum, help and information on teaching different ages. Subscribe today, and we'll start sending you some helpful resources.
You can also get some other educational tips here and check out some mom blogs that will surely leave you inspired.