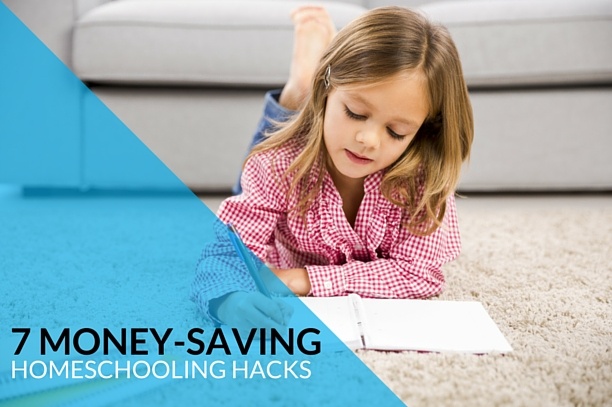 Have you ever attended a homeschooling conference, eager to dig into a new school year, and left with a much lighter wallet? Let's face it, a homeschool curriculum can get expensive, especially if you're just starting out and don't have a home library to build from.
Thankfully, there are a lot of ways homeschooling families can save money on curriculum and activities. Here are seven of our favorites:
1. Box Tops for Homeschoolers
Don't throw away those little pink squares! At any given time, you've probably got a whole host of General Mills products in your pantry. Each of those boxes and bags has a little Box Top on it somewhere, used to raise money for education. Schools can turn in Box Tops in exchange for a check from General Mills, and since each little square is worth $0.10, the cash can wrack up fast.
But what about if you're a homeschool family? Yes, you can still use Box Tops, if you're a part of a 501(c)3 homeschool organization. Your local homeschool group or co-op probably qualifies, and if you do, Box Tops can help your group purchase curriculum together! Here's a great article explaining how the system works.
2. Stream Educational Content
What if you had a complete online video library for your homeschool curriculum at your fingertips? If you have a Pure Flix Digital Streaming account, you can access hundreds of educational titles online. You can supplement existing curriculum or develop an entire unit around shows like "The American Heritage Series," or "NASA: The Complete Story."
The best part is, Pure Flix is incredibly affordable. You'll have unlimited access to thousands of Christian movies, TV shows, documentaries, and more with a monthly subscription. You can try it for free at PureFlix.com
Read Also: 5 Great Christian Homeschooling Resources
3. Try Free Online Tools
There are lots of great online homeschool curriculum tools that families can use, and many of them are free. Here's a quick list of some of our favorites:
Pre-K through Elementary: ABC Mouse has great online games and lessons for your younger kiddos. Other alternatives include Learning Games for Kids, CHALK Online, and PBS Kids.
Middle-High School: There are lots of online learning programs that middle school and high schoolers can take advantage of. Many are free, like Khan Academy (math), and many more cost much less than traditional curriculum. Try resources like Udemy to find short, practical courses that can be used as curriculum electives.
4. Homeschool Co-Ops and Groups
Many cities have homeschool co-ops and groups where families connect with one another and share curriculum and other resources. Not only will a community like this save you money, but you and your kids will make great friends to help you in your homeschooling journey. One way to find a group is to check out the Homeschool Legal Defense Association (HSLDA) support group directory.
Read Also: Fun Ways of Homeschooling Through the Summer
5. Take Advantage of Teacher Discounts
If you're a homeschool parent, you're a teacher! Take advantage of teacher discounts at educational and book stores and save money. You can get homeschooling IDs that show you're a teacher, and student IDs for your kids so they can benefit from student discounts as well. Here's one website that will create an ID for you.
6. Participate in Public School Programs
In many states, public schools allow homeschoolers to play on sports teams and participate in other clubs and activities. See if your local school district will allow your student to participate in extracurricular activities. The HSLDA put together this helpful list to help you understand what your state allows.
7. Rent Textbooks Online
If you have a computer, you can get digital textbooks for a fraction of the cost of printed ones. Try renting textbooks on Kindle. Even if you don't have a Kindle device, you can download a Kindle eReader app for your phone, tablet, or computer. If you know what book you're looking for, always check Amazon first to see if there's a digital version.
How have you saved money as a homeschooling family? We'd love to hear your ideas in the comment section below.