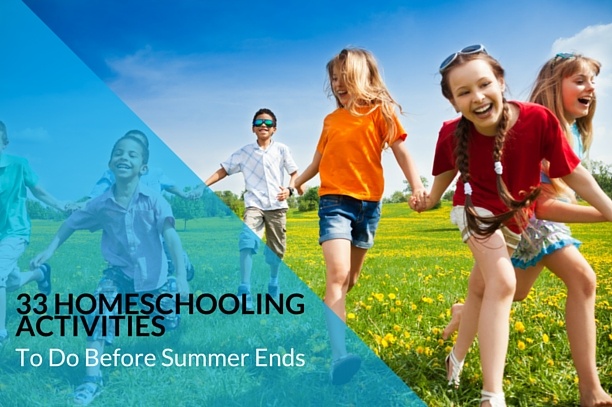 It's hard to believe that it's already July! Summer always seems to fly by, but don't worry: its not over yet! For homeschooling families, summer doesn't mean school is out, and August doesn't mean the fun has to end! Here are 33 family-friendly activities you can do while it is still warm out:
1. Free museum days
Visiting a local museum is a great way for your kids to learn something new, and beat the heat! Many museums have free admission days throughout the year, which can make them an affordable, family-friendly option. You'll enjoy the air conditioning and they'll enjoy the exhibits.
2. Free zoo days
If you live near a zoo, see if they have free admission days as well. There's always something new to see! Before you go, watch a documentary on a specific animal, like this one, and then go see it in person!
3. Tour a local sports stadium, theater, or landmark
If you live near a city, find out what landmarks offer guided tours. Your kids will learn more about their city, and can even write short reports about the places you've visited once you return home!
Also Read: Fun Ways of Homeschooling Through the Summer
4. Library reading challenges
Sign your kids up for the summer reading challenge if your library has one (many libraries do!). Your bookworms will earn prizes and have fun competing with other local kids.
5. Book to Movie report
After your kids have read some books, why not see if any of their favorites have been turned into family movies?
6. Visit a farm
Summer is a great time to check out local farms. Some offer opportunities to tour the property and see how crops are grown. You might be lucky enough to live near an orchard that allows you to pick your own cherries or apples!
7. Host a concessions stand
Here's a fun twist on the classic lemonade stand: invite some neighbors over for a movie night and let your kids run a concession stand. They can sell candy and popcorn, and have a lot of fun while learning basic business concepts at a young age. Bonus: you can use this as an outreach opportunity for your neighbors by showing one of the many Christian movies found on PureFlix.com!
8. Virtual world tour
You may not be able to travel the world this summer, but you can still see a lot of it! Check out cities worldwide on Google Earth, and check out some of the awesome documentaries on different cities on Pure Flix.
Read Also: Great Summer Activity: Catch Up on Owlegories
9. Host a scavenger hunt
In your neighborhood or even around town, host a scavenger hunt for your kids and their friends. They'll enjoy hunting for clues and get plenty of exercise walking (and sprinting!) around.
10. Find a nature trail
Many towns and cities of all sizes feature nature trails tucked away in little-known parks nearby. Call your local Parks and Recreation office to ask where you can find one of these great sight-seeing trails.
11. Volunteer at the animal shelter
Many animal shelters allow children to interact with shelter pets to help socialize them. Find out if there's a day your kids can enjoy some critters.
12. Camp
This summer classic can't be left out. Consider letting your kids plan their own camping trip in the backyard.
13. Water balloon fight
Hot out? Lob some water balloons at one another! This is a great activity at a park or in your backyard!
14. Homemade ice cream
Make some homemade ice cream to enjoy outside or while watching one of Pure Flix's family movies. Recipe here.
Subscribe: Homeschooling Movie Resources
15. Raise butterflies
Summertime is the perfect time to raise butterflies and release them. You can purchase a kit like this one and study up on metamorphosis.
16. Summer Bridge Workbooks
If you're not schooling through the summer but still want to keep your kids' minds sharp for the fall, check out Summer Bridge workbooks.
17. Learn about the History of the Bible!
Pure Flix features many wonderful Christian movies and documentaries on the history of the Bible.
18. Garden
Let your kids plant flowers, or better yet, veggies!
19. Make your backyard a hummingbird sanctuary
20. US history timeline wall
Create a timeline of American history across an entire wall of your house (or the backyard fence!). You'll find lots of documentaries and mini-series on Pure Flix to help you out- like the American Heritage series!
21. Become pen pals with a missionary family
Use a resource like http://cppministry.com/ to find a missionary or missionary family to communicate with!
22. Learn about summer in other countries
Check out a documentary like "Egypt," to learn about what live was (or is!) like in other countries during the summertime.
Read Also: 5 Great Christian Homeschooling Resources
23. Do an "explosive" science experiment
Find a messy, explosive science experiment you can do right in your backyard! Here are some great ideas.
24. Have an outdoor art lesson
This recipe for color-changing squirty chalk is sure to be a hit. Combine science and art for a great family-friendly activity!
25. Have a backyard bonfire
Use the opportunity to talk about fire safety or survival skills (and of course enjoy some s'mores).
26. Host an at- home drive in movie
Remember how fun drive in movies were when you were a kid? Create one in your own backyard! Let your kiddos create a "car" out of an old cardboard box or two, and set up an outdoor movie theater like this one. There are many kids movies they can enjoy on PureFlix.com- let them pick!
27. Do a family service project
Spend an afternoon (or a few) volunteering for your church or in your community.
Read Also: Family Friendly Movie Challenge
28. Make Tie-Dye T-Shirts
Get artsy and make tie-dye t-shirts together! You can find a kit at many arts and crafts stores.
29. Try letterboxing or geocaching
Letterboxing and geocaching are worldwide scavenger hunts! You can usually find clues to where local spots are from the internet.
30. Outdoor Olympics
The Summer Olympics are right around the corner! To get excited for and learn about this worldwide event, host your own competitions right in your backyard! Try backyard bowling, horseshoes, or hopscotch!
31. Bake a summer treat
Cooking is a great educational activity. It allows you to teach about chemistry, measurement, fractions, and more! Make kitchen time lesson time this summer.
32. Try GIANT bubbles
33. Enjoy some "Creation Time"
After watching a great documentary about creation, like "Origins of the Universe," spend some time in God's creation together talking about what you learned. Try stargazing, or a hike!
We want to hear your ideas for filling your summer with fun and learning! Tweet us your ideas @PureFlix
And don't forget, if you're not a Pure Flix member, you can try the digital streaming service during a FREE trial.