As technology and access to media grows, so does its influence on our culture. As Christians we strive to protect our hearts and minds from influences that contradict our faith. However, this has become increasingly difficult in the realm of film and entertainment. As Christ slowly disappears from Hollywood, so do uplifting, faith-based films.
Recognizing the need to keep Jesus in Hollywood, David A.R. White co-founded the Pure Flix production company and the streaming service, PureFlix.com.
"We wanted to make positive uplifting life affirming content that ultimately catered to the morals and values of what our society and culture was built on," White recently told FOX411.
Watch David A.R. White explain the mission and vision of Pure Flix in this short video:
Read Also: 7 Ways Faith-Based Films Support Family Values
Pure Flix is Hope for Hollywood
Thanks to companies like Pure Flix, Christian movies are brought to the mainstream theatres rather than relegated to the DVD shelves of Christian book stores. Pure Flix's box office film, "God's Not Dead," grossed $62 million on a $2 million dollar budget, proving there are filmmakers who want to make relevant Christian films, and an audience of consumers who are hungry for positive, family-friendly content.
Still, Hollywood and media are progressively becoming more secular. According to a 2016 study by the Parents Television Council, "The amount and intensity of adult content on TV-PG shows is increasing, yet the TV-PG rating does not reflect these changes. Consequently, children are exposed to more adult content, even when parents choose TV-PG rated programs."
Now more than ever, we need to

support Christian movies and keep Jesus in Hollywood so that Jesus' teachings stay in the popular media and in the entertainment we all consume.
Read Also: Bringing Christ to Hollywood: One Prayer at a Time
Join the Movement
Pure Flix co-founder, David A.R. White would like to thank you for joining this incredible movement:
When you like Pure Flix on Facebook and sign-up for a free one-month trial to the Pure Flix streaming service, you are doing much more than giving your family worthwhile entertainment. You are joining a movement to keep Jesus in Hollywood. There are people, like you, who want something more than what Hollywood's been giving. By joining Pure Flix, you are building a community dedicated to bringing faith-based films to a society so desperately in need of good, uplifting media.
The Pure Flix Facebook page recently hit over 1 million likes. Will you join over 1 million people and be part of the movement to keep Jesus in Hollywood? Without faith-driven consumers like you, Christian media will fade into the backdrop of sex and violence inundating our society. Like Pure Flix on Facebook and enjoy a community of people who value their faith like you do. Change your Facebook profile picture to spread awareness and get others involved keeping Jesus in Hollywood.
To change your profile picture, save this image and upload as your Facebook profile picture.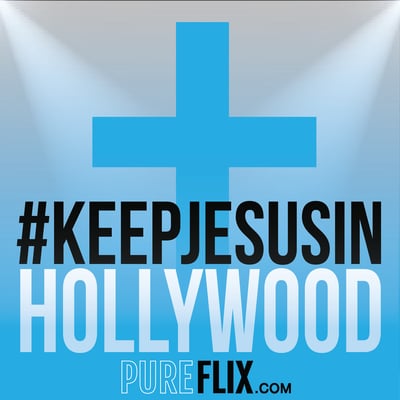 Actively invest in keeping the faith alive in the culture, and become a member of PureFlix.com. Don't delay in signing up for a free-month trial. Together we can #KeepJesusInHollywood.